minimally invasive procedure that gives a more rested, refreshed, and open look to the eyelid region with a reasonably short recovery period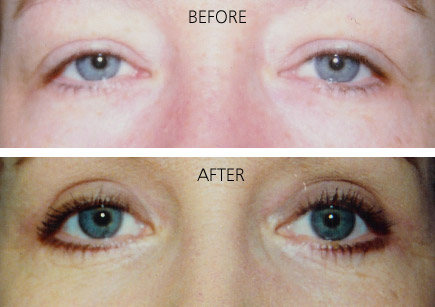 Many times, the first thing people notice about you is your eyes – but if you have lines and wrinkles around your eyes, or suffer from excessive bags, puffiness and drooping skin that often results from aging or heredity, you may feel like your eyes are the last thing you want people to focus on. Blepharoplasty is a simple corrective procedure that can provide you with a way to achieve a younger looking appearance by reducing dark circles and bags around your eyes, removing excess wrinkles and correcting drooping eyelids. In addition, since excess skin on your upper lids can sometimes interfere with your vision, corrective eyelid surgery can also help you see better in cases where upper lids are significantly drooping.  
Who should consider eyelid surgery?
As you age, skin around your eyes not only begins to lose elasticity and stretch, but the muscles that provide support to your eyelids also begin to weaken. The result is excess tissue that hangs over your upper lid and below your lower lid. If you are experiencing puffiness on or below the lower lids or wrinkling and/or drooping of the upper lids, you may be an ideal candidate for eyelid surgery. Both men and women are candidates for blepharoplasty, with the most common reasons for wanting the procedure including:
Dark circles or bags under the eyes
Excess skin or wrinkles surrounding the eyelids
Excess skin on your upper lids that interferes with your vision
What a consultation entails
During a consultation, Dr. Draper will review your medical history and your desired results for the procedure. She will also examine your eyelids closely to determine the cause and severity of the sagging or drooping of the lid skin in order to determine the best course of treatment, and determine if you are a candidate for blepharoplasty. 
What to expect during surgery
Blepharoplasty is performed as an outpatient procedure and involves tiny incisions made in the natural contours around the eyes, designed to leave no visible scarring.  For the upper eyelid area an ellipse of excess skin is removed along with excess fatty tissue, leaving only a thin scar that falls in the natural crease of the lid. The lower eyelid incision is typically just below the lash line, allowing removal of excess fatty tissue and skin. The fat may also be repositioned to softly contour the upper cheek area. Sutures are usually removed at 3-5 days, and makeup may be worn after that.
The scars fade nicely over a short period of time so that even male patients may return to their normal routine within a week or less. As with any procedure, there may be some swelling and bruising, but this resolves quickly. The beauty of eyelid surgery is that it is dramatic to the patient but others just know you look better, rested, and relaxed. They can't quite decide why.